By primarily using the ad monetization model, the DU Ad Platform strives to provide benefits to both developers and users. To ensure that your product provides an optimal user experience, please be sure to comply with the policies below.
1.Ads
To access our services, apps shall not include deceptive or disruptive ads. Ads served in your app shall be viewed as part of the app itself, and shall comply with all our policies. We shall regularly review the ads served in your app. If we find that your app is not in compliance with our policies, we shall no longer serve ads to it.
2.Deceptive Ads
Any ad shall not simulate or impersonate any app interface or operating system notification/warning message. It shall be clear to users which app is serving each and every ad.
Examples of common violations:
Ads that simulate app interfaces: These ads use similar icons to those in the apps they are served in, but when users click them, they are redirected to an external landing page.
The icon shown in the image above will take users to an external ad.
Ads that simulate system notifications: These ads are displayed to users in the form of system notifications.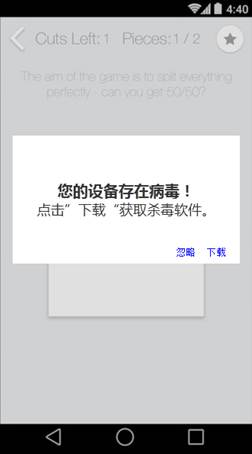 This image shows an ad that looks like a system notification.
3.Disruptive Ads
Ads shall be displayed in a way that they prevent users from clicking on them accidentally. Users shall not be forced to click on an ad or required to submit their personal information for advertising purposes in order to fully use the app.
Interstitial ads shall only be displayed in an app that serves such ads. If your app displays interstitial ads or other ads that disrupt normal use of the app, you shall allow users to easily close the ads without incurring any loss therefrom.
Examples of common violations:
Ads that take up the entire screen or disrupt users' normal use of the app, without providing a clear way to close the ads:
The ad shown in this image does not display a close button.
4.Ads that Interfere with Other Apps, Third-party Ads, or Device Functions
Ads displayed in your app shall not interfere with other apps, ads, or device operations (including system or device buttons and ports). These ads include overlay ads, supporting functions or component-based ad units, and shall only be displayed within the app they belong to.
Examples of common violations:
Ads displayed outside of the app:
The ad in this image suddenly appears on the device home screen when a user switches from the app to the home screen.
5.Compliance
The DU Ad Platform guarantees that ads served on it shall comply with the Google Play ad policy on ad quality. Likewise, developers shall have the responsibility to understand and comply with all applicable laws and specifications. In case of violations thereof on the part of developers in any way, they shall be solely responsible for any consequences caused thereby.
6.Must-have elements for Ad placement
icon, title, description, CTA button